Montreal Bachelor Party Things To Do Before Sunset
Yes, yes.. There are many bars, strip clubs, events, and parties in Montreal… However, for now, we'd like to to give you the lowdown on what you can do between 9:00 AM and 6:00 PM. Montreal has many enticing Montreal Bachelor Party activities to offer, and you shouldn't miss out!
No need to fill your days with too many activities! You're on a party/vacation hybrid, and if you've got a hangover, you're best off without a rigid touring schedule. But you don't want to be bored inside your hotel room either though, right? Here are a few light bachelor party activities, perfect for that in-between waking up and hitting the strip club time frame
16. Start your day with a seriously great brunch!
Montreal has no shortage of brunch options, check out this list of best Montreal brunch restaurants for 2023. There's actually so many outstanding brunch spots, you might want to pick one for Saturday and one for Sunday.
Le Réservoir is a brewpub, restaurant, and hot weekend brunch spot, all in one. You can chill on their patio, or escape the busy streets in their newly renovated interior, while sampling some delicious creations. Their famed brunch food is grown up and sophisticated, with unexpected elegance… we love it! Potentially the Best Montreal Brunch place to go! reservoirbrasseur.com
15. Then, take the Montreal Brewpub Experience with Montreal Craft Beer Tours
Here it is: the absolute best way to spend your bachelor party afternoon. So you've had brunch, you've got your night time itinerary… but what about those afternoon hours? That special 1pm to 6pm window? A Montreal Craft Beer Tour is your go to. The 3 hour walking tour lets you enjoy a few premium craft beers, cheeses and cured meats, as you cruise through Montreal's midtown districts. Not only that but your guide will give you local's tips, insider info about the bars you visit, and a mini craft beer education! Click on this link to learn more about the "Montreal Bachelor party Craft Beer Tour."
14. Take in the view from the top of Mont-Royal
The view is breathtaking at the top of Mont Royal. You can either walk to the top, or take the city bus. Bring a little flask, and have a casual drink at the top to celebrate like only a bachelor can! You can have your "bro" heart to hearts here as you take in the view and ponder the meaning of life before you take that big step. Or, take some big steps on your way up and turn it into a workout! Either way, a trip to the mountain is sure to create the perfect amount of nostalgia you can all carry back home.
13. Go pre-drinking in 5 à 7 on Mont-Royal street in the Plateau Mont-Royal neighborhood
Cars being blocked between the months of June and September, Mont-Royal street is full of bars and cool places to hang out. Le Plateau Mont-Royal: the restaurants are endless, the people are beautiful and art is everything. No wonder it's the most densely populated borough in Canada. From indie theatre to unique restaurants, from lush green parks to Portuguese chicken, and from local artists to secret alley ways, there is much to discover! Check out our Plateau Mont-Royal things to do guide
Foodie Montreal Bachelor Party things to do
12. Take a Mile-End Montreal Food Tour which also few drinks
Beer tours not your thing? You'd rather keep that for your long night of partying? All good! Take a food tour instead! The Mile-End Montreal Food Tour is awesome because not only does it include portuguese poutine, St-Viateur Bagel, and italian gnocchis, but it'll give you the lowdown on Montreal's history and take you through its oldest district. That way you can go home not only well fed and well partied, but you'll have some new wisdom to share too. This tour can be privatize for group of friends
Mile-End Montreal Food Tour website
11. Of course, there's… Poutine
Just before you go home on Sunday afternoon, end your trip on high note by grabbing one of our famous poutines. There are many restaurants that can fulfill your poutine needs… too many! We recommend going to Ma Poule Mouillee on Rachel, and then bringing your chorizo or chicken poutine to Park Lafontaine across the street. It's actually a favourite summer activity amongst locals, so here's a tip to skip the line: call before you go and order in advance! Magic. Nearby is La Banquise, another popular spot (perhaps because they're open 24/7). This restaurant is also the largest, which means it can accept big groups at a moments notice. Montreal Bachelor party perfection! If you can't squeeze it in on Sunday, 3:00 AM is also a good time to enjoy a poutine.
10. Get a morning thrill by… Speed boating!
Ok, so maybe you aren't that hungover. Maybe you're into.. what's that thing..? Good clean fun? If you manage to wake up early enough, Jet Boating Montreal offers an exciting Jet Boat Tour–perfect for the bachelor seeking all kinds of different thrills. This tour begins at 10:00 am sharp every day. The one hour activity is great way to enjoy Montreal's picturesque landscape while spiking up your adrenaline. If you can pull yourself out of bed, every second of this ride will be worth it.
9. Eat at Schwartz's (and cross it off your bucket list)
Like any city, Montreal's got its famous, iconic, must-eat-at eateries. Schwartz might just be at the top of that list. The classic Montreal smoked meat joint, all you'll find here is smoked meat, rye bread, mustard, and pickles. They keep it simple, and they keep it delicious. You might want to factor in waiting time and wear some sunscreen though: the constant lineup outside is just part of the Schwartz experience.
8. The Piknic Electronic – Afternoon DJ Jam
If you've got room in your Sunday itinerary, consider a Piknic Electronic afternoon! Don't worry, most people at Piknic will be hungover like you… Dancing in the sun to international DJ beats with all kinds of people… a Montreal must! It's only 5 minutes from the Downtown core starts at 2:00 PM. A Classic Montreal Bachelor party activity!
7. Hop on a Montreal Bike & Drinks Tour with Fitz Montreal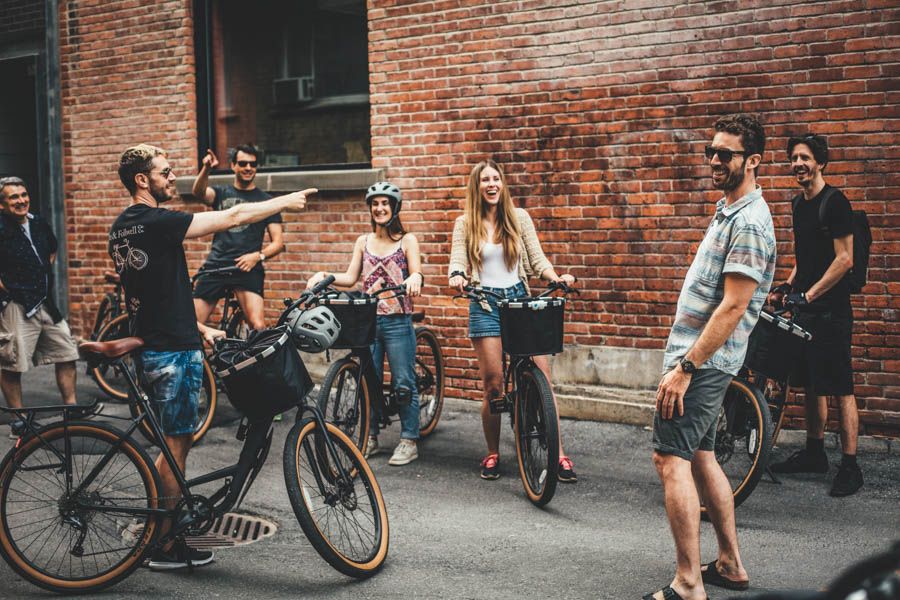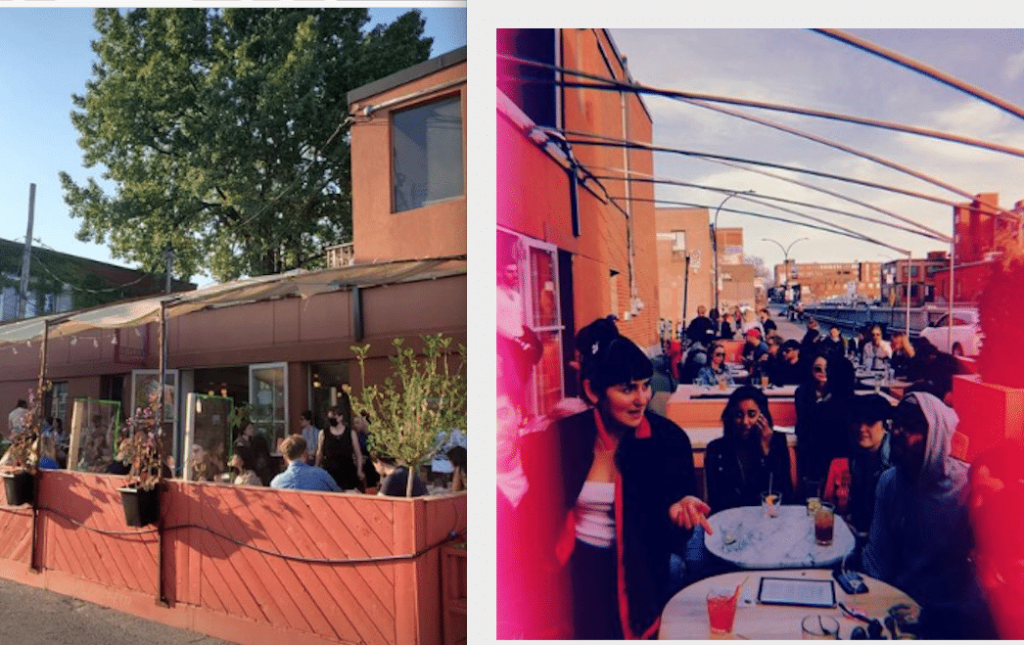 Riding Montreal on a bike, visiting the cool places and then, having a little cocktails stop on a beautiful terrasse? A match in heaven some would say! Fitz Montreal Bike Tours is offering a Plateau, Mile-End and Jean-Talon Market Montreal Bike Tour and adds a little bar stop for groups of bachelors or bachelorettes. They visit Ciccheti bar, which is a very nice bar located in Mile-Ex. Instead of cocktails, groups can also order natural wines glasses. Check out this Montreal Bike & Drink Tour here
6. Experience the barber shop revival with your Montreal Bachelor party friends
Depending on where you're from, you may have noticed: not only are beards and comb-overs allthe rage these days, they're the only rage! Many of them offer a drink & cut combo, barber shops are the perfect place for some prime "bro time" for you and your party. It's also the perfect stop to make you feel like a king for a little while, in between your poutine and lap dance(s). Check out Andies Barber Shop if you want to stick downtown, Notorious if you want to be part of the local buzz, or Brakeless if you're exploring the Mile-End. Freshen up your bachelor's look before the big day!
Classic Montreal Bachelor Party things to do
5. Grab yourselves a kick-ass souvenir
Okay, shopping might not be the manliest thing you can do. But hey, how else are you gonna get the manliest attire to bring back home? While you're in one of the best looking cities in the world, you might as well steal a couple of our tips and tricks to bring back to your new life back home! Clark Street Mercantile is a Montreal based "man shop" which curates the best man products out there. Beard wax, toothpicks, flasks… If you've got the time to bump up your style, check this store out in between your many Montreal meals.
4. Enjoy Dinner at a nice restaurant
Montreal's foodie scene is totally booming right now. With many restaurants seeking to put their own spin on the classics, competition is fierce. Take advantage of this while you're in town! Many restaurants are also quite affordable, if you are looking to lower your costs. It's best to make a reservation a few days/weeks in advance. If you forgot to book (oops!) these are some nice restaurants/bars which would be pleased to seat you:
Au Pied de Cochon – This is a MUST! Reservation required. Yep, it's that popular.
Capital Tacos – We don't always recommend going to ChinaTown… but when we do… it's for tacos! Yep, this trendy new hot spot is serving up some delicious authentic tacos. Awesome for pre-pre-drinks!
L'Orignal – This decked out chalet style restaurant serves oysters, duck, and much much more, right in Old Montreal
Yokato Yokabai – The. Best. Ramen. Ever! No, seriously: they made it onto Yelp's top 100 in Canada. PS: sake!
Brit 'n Chips – Don't wanna break the bank? Come get some fish 'n chips at this Old Montreal gem! A Montreal classic.
Or feast on some Candian beef with your whole crew @ Gibby's Steakhouse
When it comes to a perfect group dinner in Montreal, Gibby's Steakhouse in Old Montreal has everything the heart desires: Cozy stone walls, great location and most importantly, outstanding Canadian beef steaks and seafood for you and your gang.

Even better, they have plenty of room for big reservations making them a popular venue for local receptions and intimate dates alike. Quality doesn't disappoint and they even offer group menus. The restaurant occupies several rooms in a historical building and even boasts a stylish courtyard, lounge and alcove.
Founded in 1970, Gibby's has withstood the test of time thanks to its consistent quality, unique setting and hospitable atmosphere.
After their French Onion Soup and Ribeye, you'll be ready for whatever the rest of the night as in stock.
3. Chill in a park and have a beer
It's beautiful, free, and fun! This is probably why many Montrealers do this every weekend. Parc Lafontaine, Parc Laurier, and Parc Mont-Royal are all great spots to lounge around. The rule here is that you can drink in the park as long as you've got a meal. So pick up a few bagels, some cream cheese, a few brews, and you're good to go! If you want some extra fun and are into ping-pong or petanque, Parc Laurier's got your back.
2.*We Apologize in Advance* Have a 10$ daytime lap dance!
Many strip clubs and bars are open during the day! Why not have a quick dance and laugh with your pals? Of course, it won't be the 10/10 girls, but you're doing it for the laugh not the ass. We can't guarantee your satisfaction on this one unfortunately! Pro tip: club Super Sex has a "free" buffet during the day. Cut down those costs…?
1. Enjoy your Bach Party!